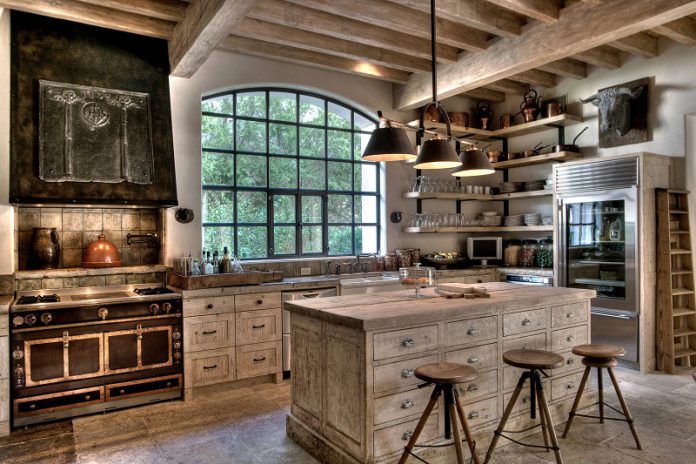 Erlanggablog.com – A Mediterranean kitchen color palette draws from the landscape and the sea, and features earthy tones such as olive green and rich yellows. It's also full of deep blues, turquoise, and dusky lavender. You can use complementary colors to create a stunning room that's both unique and functional. Adding some color to your walls will help you achieve a more harmonious color scheme, which will add a sense of depth.
Choosing the Right Colors to Create a Mediterranean Style
Choosing the right colors for your kitchen is an important step in creating a Mediterranean style. A dark brown or terra cotta floor is an excellent choice for a Mediterranean-style kitchen. For added warmth, consider solid dark brown countertops with an eat-in kitchen area. Raised-panel cabinets are an excellent way to add storage and will also help create a more inviting space. For the rest of your kitchen, you can choose light wood cabinets with an off-white backsplash. To create a more contemporary look, you can choose stainless steel appliances and white granite countertops.
A Mediterranean kitchen can be small and open, or it can be large and cozy. The design is reminiscent of a traditional country kitchen. You can find a modern adaptation of the traditional design style by mixing classic silhouettes with a contemporary layout. A massive U-shaped island counter serves as an informal dining space, while the white marble counters and countertops match the walls in light taupe. If you want to add some modern touches, you can also choose a lighter color for the cabinets and walls.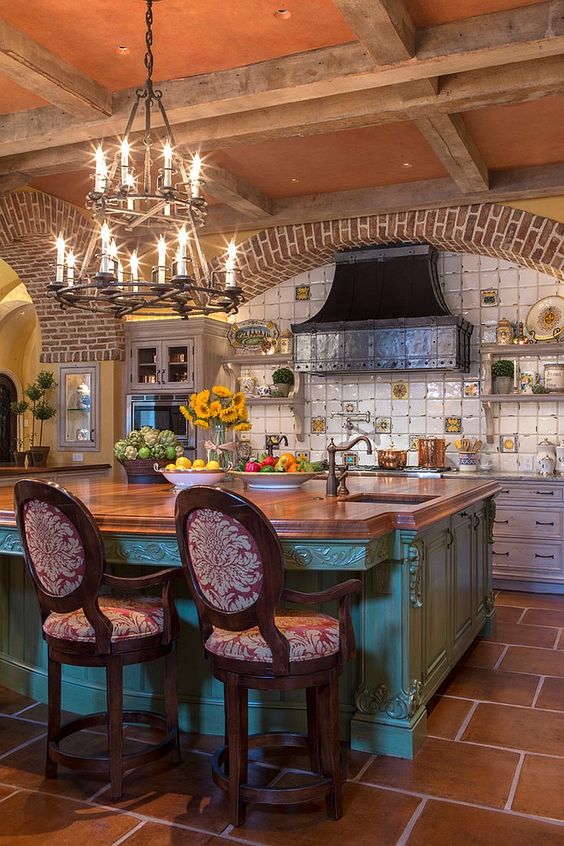 The modern adaptation of the Mediterranean design is easier on the eyes than the original design. The use of warm colors with neutral colors gives the room a bright background. This kitchen has all-white walls and ceiling, which perfectly complement the terra cotta-colored floor tiles. It also has traditional Spanish-style cabinets that have panel details and turned posts. The traditional Spanish-style cabinets are made of solid fruitwood and are topped with granite.
Mediterranean Kitchen Design Characteristics
The design of a Mediterranean kitchen is characterized by its bold colors and finishes. The color palette includes warm colors, arched ceilings, and wooden beams. For the cabinets, you can choose red-painted solid wood cabinets and emerald green countertops. A mosaic backsplash in the same tone is an ideal accent to the Mediterranean style. The color combination of the kitchen with the surrounding home will create an overall atmosphere of warmth.
In a contemporary Mediterranean home, a small, open-plan kitchen is a focal point. The kitchen features a traditional arch-shaped ceiling, with bent bamboo beams and flattened strips of bamboo cladding. The cabinets are made from light oak and feature a rich wood finish and a double bowl sink. The wall ovens and LED lights in the ceiling add a touch of sophistication and charm to the design.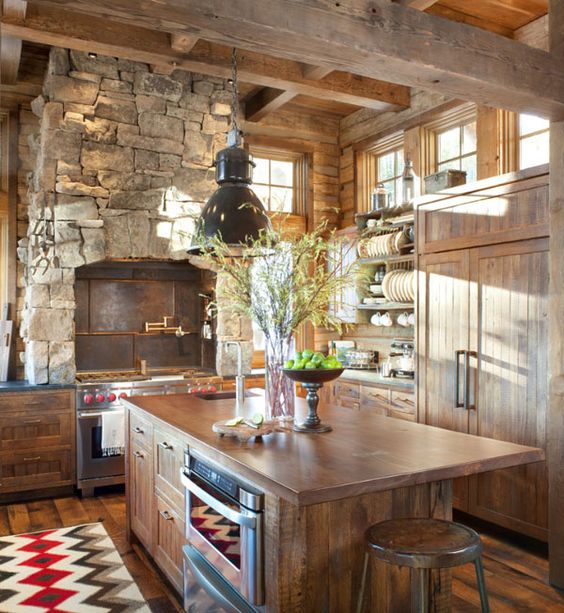 Contemporary Mediterranean home features a small open-plan kitchen with an arched ceiling clad with bent bamboo beams. The small kitchen also has a rustic look with a combination of varnished walnut and off-white cabinets. The walls are light taupe. Various types of rugs are used in the kitchen. A tiled ceiling will add character to the space. The design of a small Mediterranean kitchen can be achieved using a neutral and earthy color scheme.
Simple but Functional and Comfortable Small Kitchen
Contemporary Mediterranean home features a small open-plan kitchen. The arched ceiling is clad with bent bamboo beams and features a dark wood cabinet. The small white and beige walls complement the light-colored cabinetry. Combined with the wooden floors, the textured floor and the white-washed cabinets will provide a soothing and relaxing atmosphere for the owner. The kitchen's design should be simple yet functional and offer the maximum comfort.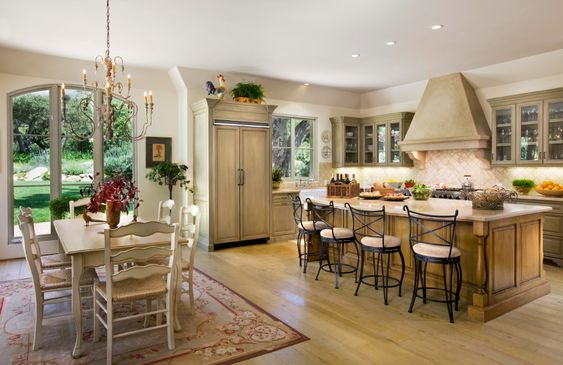 The design of a Mediterranean kitchen is easily recognizable because it incorporates a rustic, country-style kitchen. Its traditional wooden cabinets are made of vertical wood planks in an off-white color, which stands out against the solid Mahogany flooring and the white walls. The kitchen island is made of white marble and is also a focal point of the design. Decorative Moroccan lanterns are a distinctive feature of this style.