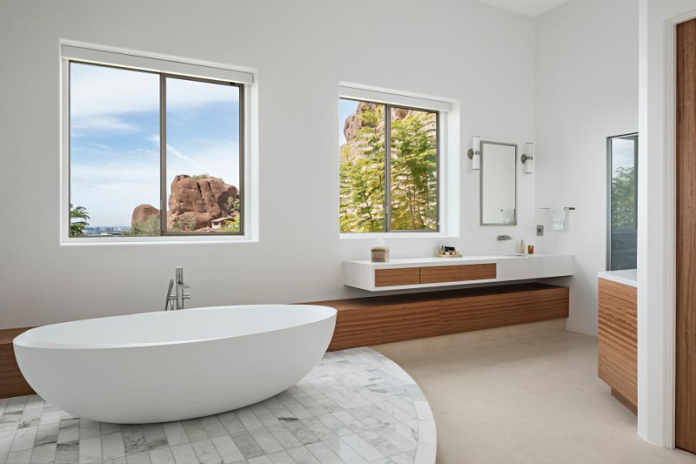 Erlanggablog.com – If you have a contemporary minimalist style in mind, you may want to keep your furniture to a minimum. For a clutter-free feel, you can add a modern piece of furniture to the room. A shower in the corner of the room creates the illusion of space, while subtle sculptural forms and geometric shapes add visual interest to the space. Your bathroom's architecture should be eye-catching, too. Opt for one-piece fixtures that blend with the overall theme.
Tips for Creating a Modern Feel
If you're after a modern feel, you can choose minimalist faucets with sleek handles and clear floor-to-ceiling mirrors. Glass is an excellent option for bathrooms, and it can transform a plain bathroom into a luxurious retreat. If you want something a bit warmer, try pebbles, candles, or wood-like tiles. If you're going for a more classical look, you can go for a black-and-white combination. You can use black hexagonal floor tiles on the feature wall and white subway tiles on the rest of the walls.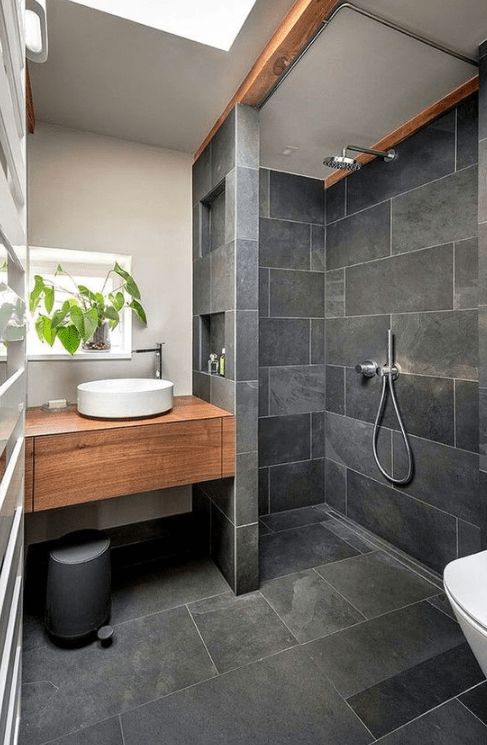 Another tip for minimalist bathrooms is to stick to one color scheme. Choosing one color for your bathroom will make the space seem more organized and neat. You can experiment with various shades, but stick to one or two. White is the most common color for minimalist bathrooms, so stick with white and neutral colors. Just be sure to limit the use of bright accents so that the overall look does not appear overly busy or cluttered. This style is functional in small spaces, too.
Using Marble Floor
The floors in minimalist shower rooms can be marble or black hexagonal floor tiles. Using black floor tiles is not a bad idea if you want a sleek minimalist look, and it will also break up the space. Another good idea is to use reclaimed wood floor tiles as they will warm up the room and bring in natural elements. Of course, you should remember to keep the floors dry if you're using them for showers and other wet areas.
A doorless shower is the dream of a minimalist. Usually, these showers are only seen in modern, upscale bathrooms. But you can opt for a clear shower curtain if you don't have the budget for the full bathroom. Adding a single decorative item can add visual interest to the space. A shower curtain is a great idea, too, as it can soften the room and make the space feel more spacious.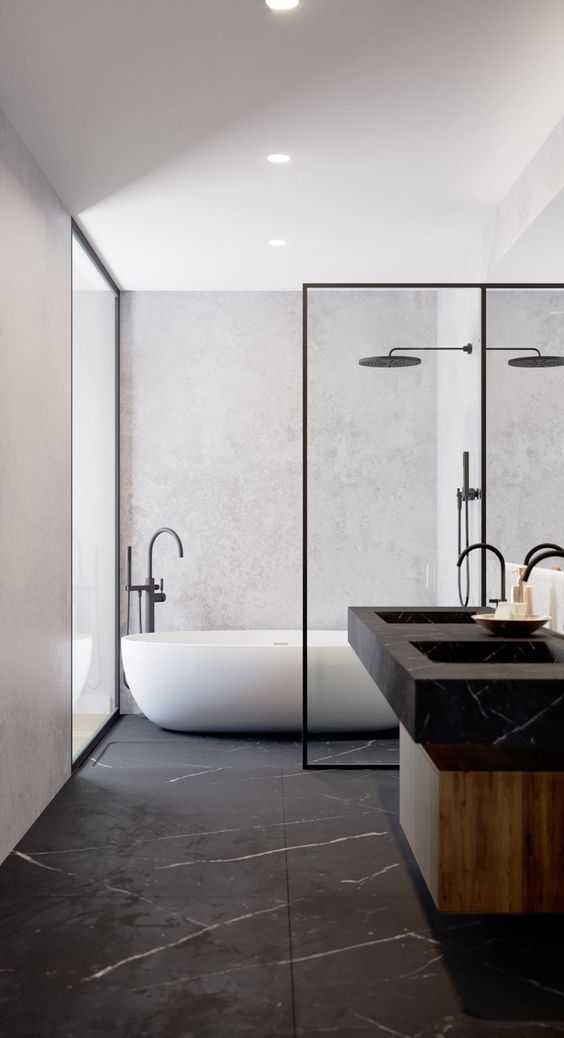 A minimalist bathroom can incorporate some color. Honeycomb tiles are whimsical and trendy. If you're looking for a splash of color, consider a wall feature made of different types of tile. This way, you'll get a unique tile ombre effect. To create an atmosphere that reflects your personality, consider adding brass or refined marble to your bathroom's décor. You can incorporate both trends into a minimalist bathroom.
Give a Contemporary Look to a Minimalist Bathroom
Minimalist bathrooms are easy to pull off, as long as you stick to a neutral color palette. They are also refreshing and easy to pull off. You don't need a huge amount of clutter. And they're great for a contemporary style. In addition to a neutral color palette, you can incorporate accent colors such as wood. If you'd like to incorporate more than one color, you can add hexagonal floor tiles for visual interest.
A minimalist bathroom should incorporate a focal point. The focal point could be a large painting or a small picture frame. This will add visual interest to the space and balance the simplicity of the overall design. Adding plants can add a natural touch to your bathroom. Plants don't look busy and won't clash with your minimalist design. These are just a few ideas for making your bathroom look stylish and functional.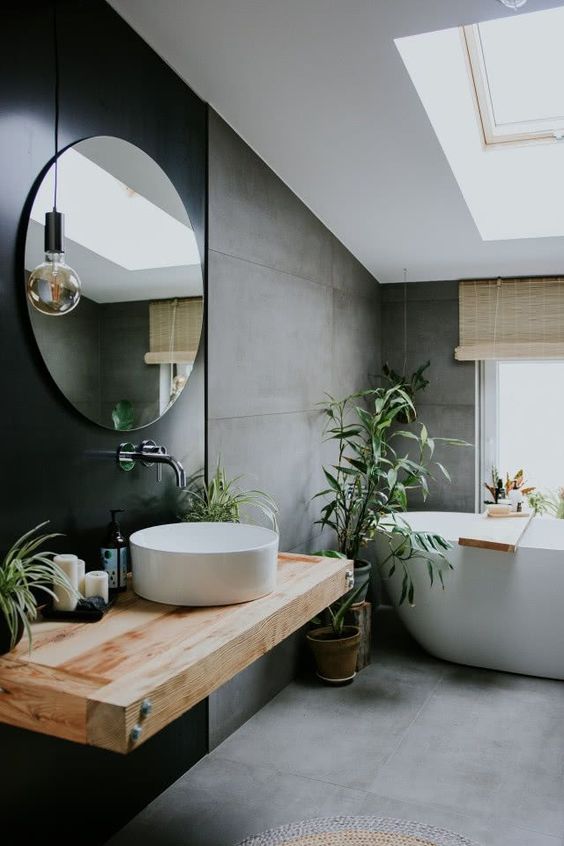 Using color wisely is essential for creating a minimalist look. For a bathroom with a minimalist theme, white will be the most suitable color. White will make it look light and airy, while light peach or pink will create a romantic mood. Blue is associated with the sea and sky, and when combined with snow-white plumbing, blue will appear harmonious. If you're trying to match the minimalist style with a contemporary style, a neutral color palette is a good option.