Erlanggablog.com – Luxury Mansion Interior Design showcases the best home decor ideas for living rooms, dining areas, bedrooms, bathrooms, and kitchens. This incredible collection also includes breathtaking walk-in closets and exclusive home offices.
Opt for Sleek Contemporary Styles or Transitional Pieces
Choose carefully curated statement art pieces to add an elegant finishing touch to your luxury home. This is a better choice than cluttering surfaces with many mediocre artworks. The living room is the perfect spot to entertain guests or relax after a long day. It's also a great place to show off your taste in design, whether you opt for sleek contemporary styles or transitional pieces. In this luxury mansion interior design, the living area features a long light gray sofa with velvet cushions and a dark wood center table. The Sputnik chandelier and modern wall art add a touch of style to the space.
While this large mansion has an open floor plan, the designers made sure to minimize clutter. Having an uncluttered space will keep the room looking bigger and more refined. The large living room has a Tuscan vibe thanks to the open beam ceilings and hand-scraped wood floors. The faux stag head and cowhide rug add a rustic touch to the elegant space.
A bedroom in a luxury mansion should feel elegant and special. If you want to create a unique look, consider a custom headboard made from patterned fabric. Panelling is another popular choice for bedrooms, and it can come in a variety of styles from subtle tongue and groove to grand period designs. You can also use wall mirrors to visually expand the space. In this bedroom designed by Janie Molster, light plum walls, and powder blue bedding exude a regal style. A canopy bed and gold accents add more visual interest to the room.
Creating a Sophisticated Feel that is Comfortable and Elegant
If you love contemporary style, this beautiful luxury mansion living room might be just the inspiration you need. The rich details and upholstered grey sofas create a sophisticated feel that's both comfortable and elegant. Gold yet discrete details and a marble floor finish the look of this stunning room. If you like this design, consider using the same palette in your home. A dining room is one of the most important rooms in a luxury mansion. It's where you can gather with family and friends for a nice meal or just enjoy each other's company. For this reason, it's a must to make sure that this space is perfect for socializing and relaxing.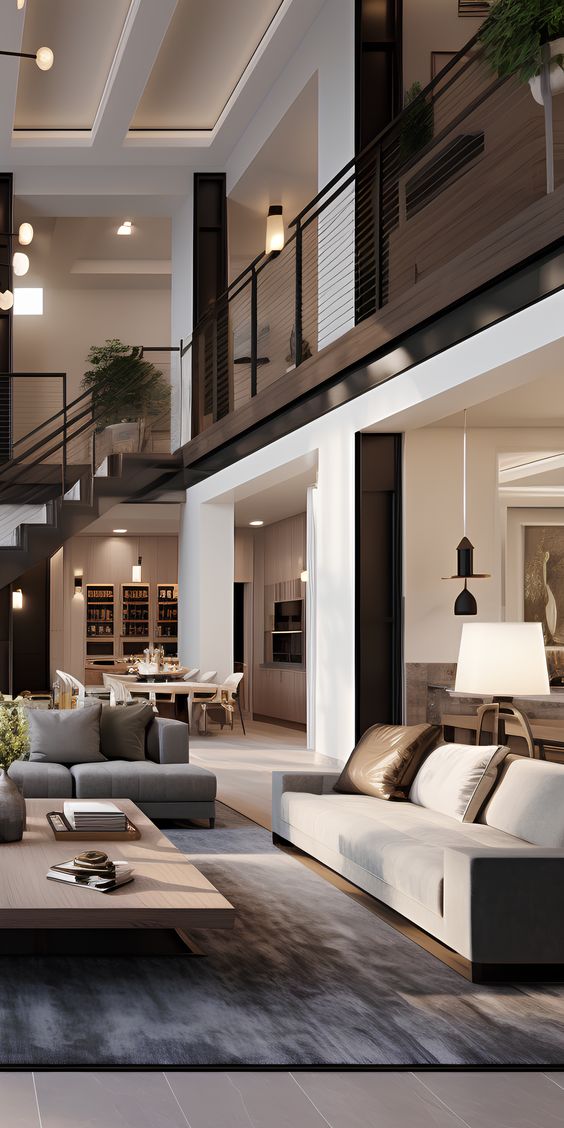 This elegant dining area combines soft pistachio green wall paint with a crystal chandelier and red and blue-toned vintage rug to create a timeless and inviting spot for dinner parties. The carved wood buffet table is adorned with ceramic vases and unique chairs. The stunning Billie Dining Table is the main attraction in this luxurious dining room with a daring attitude and refined details that make it the perfect fit for any high-end project. The golden lighting design pieces also help elevate the atmosphere of this opulent space. This dining room is the ultimate example of how a contemporary project can adapt to any aesthetic while keeping its personality and uniqueness.
Offers Many Ways to Express Your Sense of Beauty
Luxury mansion interior design offers many ways to express a sense of beauty. In this dreamy kitchen, designer Maite Granda ran white cabinetry all the way to the ceilings in this Florida home for a clean and seamless look that emphasizes height. She paired the glossy cabinets with mirrored backsplash tile for a reflective effect that brightens and opens up the galley-style room. Stainless steel appliances are a common staple in luxury kitchens. They can be a classic, chic choice that adds an element of richness to the space or they can be used to create a more moody and masculine feel, as seen here in this spacious California kitchen from Rhianna Jones of Tidal Interiors.
A patterned back splash is another common feature in luxury homes, particularly in modern designs. The bold pattern adds visual interest and ties together all of the elements in this luxurious kitchen from Leclair Decor. Here, brass accents on the vent hood and island hardware complement the bronze mirrored backsplash for a high-contrast look that's both edgy and sophisticated.