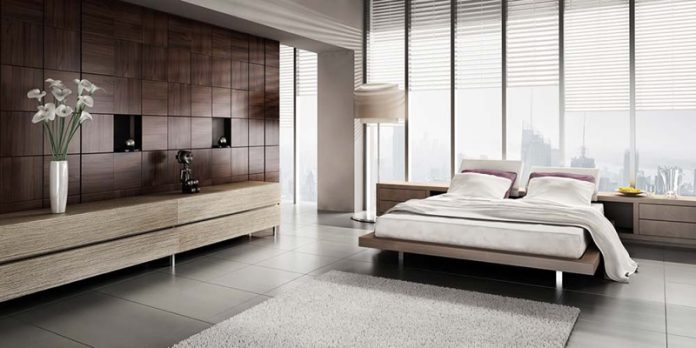 Minimalistic interior design is all the rage, and it's clear to see why. A clean and conservative space can help to keep your head clear and make you feel more relaxed, which is key for a good night's sleep.
Whilst the most luxurious hotels around the world have set the style stakes in the minimalist trend, that doesn't mean that to get the same look in your own home, you need to fork out a small fortune.
A minimalistic bedroom can be easily achieved by simply scaling back your decor and adding a few on-trend features.
If you're ready to create the minimalistic bedroom of your dreams and aren't quite sure where to start, here are a few tips to help get you started.
1. Declutter
Every good home improvement starts with a declutter, and this is especially true when it comes to taking a more minimalist approach.
Clear out any unnecessary junk in your room and start with a blank canvas. This goes for any wall decor, ornaments, photos and anything that won't fit in with your new style. If your bric-a-brac is still in good condition, consider selling it online or donating to a charity shop.
2. Pick out a neutral wall colour
All of the best minimalistic bedrooms feature neutral walls. Try to opt for warm colours such as beige or grey, or even a creamy white shade. Remember, you still want your minimalistic bedroom to look warm and inviting – not cold and bare.
3. Neutral bedding is a must
Creating a minimalistic look is all about clean lines without too much going on. With that being said, you'll want to avoid any sort of patterned bed linen that will completely throw the whole theme off.
Opt for a quality bed linen set in white, beige or grey that will complement your chosen wall colour. Investing in a more luxurious brand of bed linen will help you to achieve that crisp, clean and expensive look.
4. Choose one piece of artwork
You've likely seen that luxury hotels usually hang just one single piece of artwork on the focus wall – and there's a good reason for this.
Covering every inch of wall in artwork makes the space looks cluttered and untidy, but one carefully chosen piece can tie the whole look together. Search around for one piece of artwork that you truly love and make it the focal point of the room.
5. Minimise your storage
We all need storage for obvious reasons, but try to reduce your need for overly clunky storage units such as drawers and wardrobes. If you can manage to store all of your necessities in just one storage unit, that will help to open up the space and make it as simplistic as possible.
6. Invest in greenery
Minimalism doesn't mean you need to avoid colour altogether. Adding a fresh green plant into the space is a great way to inject some earthy vibes with a little bit of fun.
Carefully placed in the corner of the room, a beautiful plant helps to freshen up a bedroom and add a subtle pop of colour. Real or faux, the choice is up to you!