Erlanggablog.com – Whether you're looking for a new home or a remodel, mid-century modern-style homes are a popular choice. They have a unique embrace of the outdoors, open floor plans, and streamlined furniture.
Examples of Good Minimalist Decorations
The architects most responsible for this design movement were Frank Lloyd Wright and his pupils like Richard Neutra and Rudolph Schindler. They embraced clean lines, flat roofs, and floor-to-ceiling windows. Mid-century modern-style homes are a great example of minimalist decor. Featuring large glass windows, flat surfaces and open spaces, this design style is perfect for anyone who is looking to bring an ultra-modern aesthetic to their home.
Minimalism is a design movement that emerged in the post-World War II era. Prominent artists like Carl Andre, Dan Flavin, Donald Judd, Agnes Martin and Robert Morris became key innovators of the movement, which focused on maximizing space and minimalism in art and design. The principles behind minimalism are applicable to many areas of life, including interior design, architecture, music, and more. By making a conscious choice to buy and own less of what doesn't matter, minimalism can help you create space in your life to do things that you love, such as spend time with your family, pursue entrepreneurship or take on bigger risks.
To bring the minimalist style into a mid-century modern home, choose furniture pieces with clean lines and contrasting finishes. For instance, a polished concrete floor, textured wood paneling, and opaline pendant lights can all add texture to the room. Whether you're designing a new home or decorating an existing one, mid-century modern-style homes can provide you with a clean and minimalist look. These styles often feature sleek lines and organic shapes, blending traditional materials with innovative designs.
Geometric Shapes Become a Characteristic of Design
These homes are also known for blurring lines between the outdoors and indoors, highlighting natural elements in raw form. Exposed beams, wood panels, and untouched brick walls are all common features in this style. Geometric shapes are another hallmark of this design movement. You may see prints, artwork, and rugs featuring geometric patterns that resemble starbursts, atomic or boomerang features.
This style was popular during the 1950s when newly affluent post-war families began expanding into America's suburbs. They wanted to create spaces that were more efficient and practical than their predecessors. Mid-century modern-style homes are a favorite among homebuyers who love vintage design and want to add a unique style to their home. With a focus on natural materials, clean lines, and open floor plans, this style can be a perfect fit for anyone looking to create a cozy and comfortable home.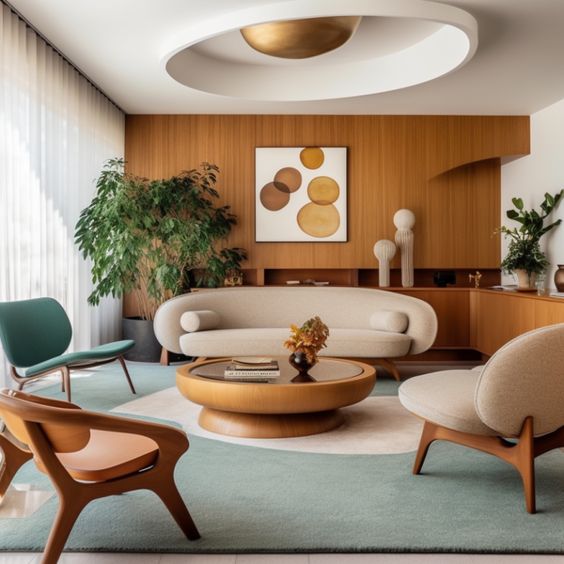 It is also great for those who have a small home and need to make the most of their space. With its minimalist approach, this style can be a great choice for those who are trying to pare down their belongings and keep their home clutter-free. The mid-century modern style was popular during the first half of the twentieth century and remains a popular choice today. Its principles are reflected in the latest design trends, and it continues to resonate with a large number of homeowners. Its strong connection to nature, earth-tone color palette, and low-profile furnishings are all known to help lower stress and improve productivity.
An Exciting Combination of Nostalgic and Forward-Looking
Mid-century modern-style homes are a blend of retro and futuristic, a combination that appeals to both nostalgic and forward-looking homebuyers. This style is known for its use of new industrial materials, such as glass, steel, and concrete. This unique style of home design is also a good choice for those who want to leave a minimal impact on the environment. These designs incorporate many green building technologies, such as solar-heated water, energy-efficient appliances, and recycling of pluvial and grey water.
The landscape of these futuristic-style homes often resembles hills with attractive entryways. Some buildings even fit into the land itself, offering a completely natural approach to home design.