Hello and good morning guys, welcome back to my website. This day I want to share with you an article about how to make a cake especially if you are a beginner in the baking world. Well, there are not many girls who born with a gifted talent to make a delicious food. However, there are some girls that still try to give their best by learning on how to make it better little by little. Well, to help you on your learning progress, I will gladly help you by giving a few easy to bake a cake. So, are you curious yet?
How To Make a Cake? Beginner's way!
There are so many people and especially a man who tries to find a perfect woman to accompany their life. However, trying to finding a correct woman for your life partner is easy as watching the cartoon. Well, they are not born with all few times and let them learn those talents! So, give them, at last, a chance to learn how to make a homemade cake.
Well, to appreciate their will on baking a cake, this day I will share a few easy cake recipes to all of you! So, are you curious, yet?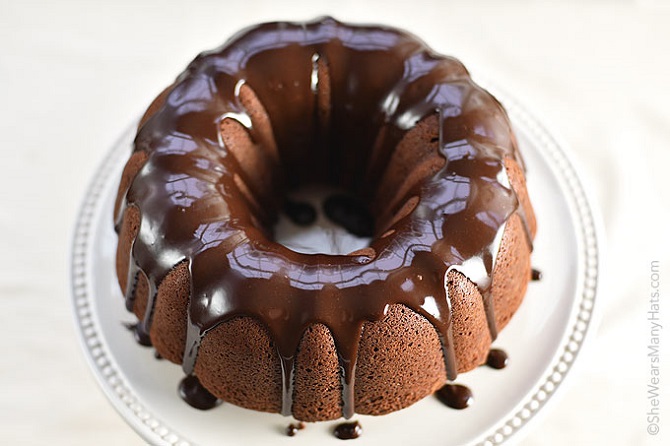 Chocolate Bundt Cake
INGREDIENTS
FOR THE CAKE
8 ounces (2 sticks) unsalted butter, plus more for pan

2 1/4 cups all-purpose flour

3/4 cup unsweetened cocoa powder

1 teaspoon baking soda

1 teaspoon salt

1/2 cup milk

1/2 cup sour cream (4 ounces)

1 1/2 cups sugar

4 large eggs

1 teaspoon pure vanilla extract
FOR THE GLAZE
3 ounces bittersweet chocolate, chopped

1/2 cup heavy cream

2 tablespoons unsalted butter
Instruction
Make the cake: Preheat oven to 325 degrees. Butter a 14-cup Bundt pan. In a large bowl, whisk together flour, cocoa, baking soda, and salt. Mix milk and sour cream in a glass measuring cup.

With an electric mixer on medium-high speed, beat butter and sugar until pale and fluffy, wait until 3 to 5 minutes. Add eggs, 1 at a time, beating well after each addition; add vanilla. Reduce speed to low; add flour mixture in 2 batches, alternating with the milk mixture and beginning and ending with the flour; beat it until perfectly combined.

Transfer batter to prepared pan; smooth top with an offset spatula. Bake until a cake tester comes out clean, about 55 minutes. Transfer pan to a wire rack to cool completely.

Make the glaze: Place chocolate in a heatproof bowl. Bring cream to a simmer in a small saucepan; pour over chocolate. Let stand 2 minutes. Add butter, and mix until smooth. Let stand, stirring occasionally, until slightly thickened. Pour glaze over cake.
Vanilla Pound Cake
Everyone loves Vanilla Pound Cake because of its smooth texture and sweet taste. This cake really suitable for a small party like a tea time.
INGREDIENTS
1 cup (2 sticks) unsalted butter, room temperature, plus more for pan

2 cups all-purpose flour (spooned and leveled), plus more for pan

1 cup sugar

4 large eggs

2 teaspoons pure vanilla extract

1/2 teaspoon salt
Instruction
Preheat oven to 350 degrees. Butter and flour a 6-cup (8 1/2-by-4 1/2-inch) loaf pan; set aside.

Using an electric mixer on high speed, beat butter and sugar until light and fluffy. Add eggs one at a time, beating well after each addition; add vanilla and salt. With a mixer on low, gradually add flour, beating just until combined (do not overmix).

Bake until a toothpick inserted in center of a cake comes out clean, about 1 hour (tent with aluminum foil if browning too quickly). Let cool in pan 15 minutes. Invert onto a wire rack, and turn upright to cool completely.
Well, I think my article today about How to make a cake can answer all of your questions. Well, if you think my article today is useful enough for you, please share my article today with the other people who love to bake a cake. Thanks for coming and take a visit to my website. I hope we will meet again in my next article. See you guys😘.