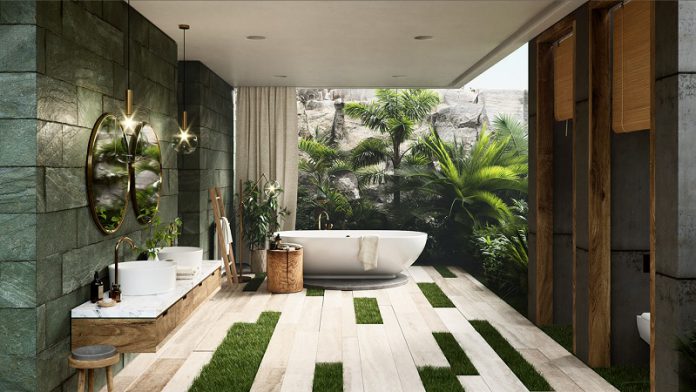 Erlanggablog.com – There are many ways to incorporate natural elements into a tropical bathroom design. For instance, choosing natural materials like wood or stone will help you embrace the ambiance of the tropics. Stone comes in many different shades and types, so you can find one that works for your bathroom. Just make sure that it is presented in a natural manner to achieve the effect that you are trying to achieve. This can also include using natural stones and pebble rocks.
Versatile Materials Suitable for Tropical Bathroom Design
Bamboo is a versatile material that works well in a tropical bathroom design. Using it for bathroom accessories gives it a uniquely unique texture. Bamboo can be used in many different ways to complement different plants and fixtures. Snake plants can serve as a focal point of a tropical bathroom design and require minimal maintenance. Bamboo also looks beautiful when paired with other natural materials. These plants will add a touch of the tropics without taking up much space.
Bamboo dominates a tropical bathroom, from the ceiling to the walls. Thin strips of bamboo are also used to frame the frosted glass wall in the shower area. Dark wooden cabinets and a bathroom vanity topped with an earthenware jar complete the design. Lastly, an overhead shower with a fern and a mirror on the wall complete this tropical bathroom design. A tropical bathroom is sure to add a touch of the tropics to your home!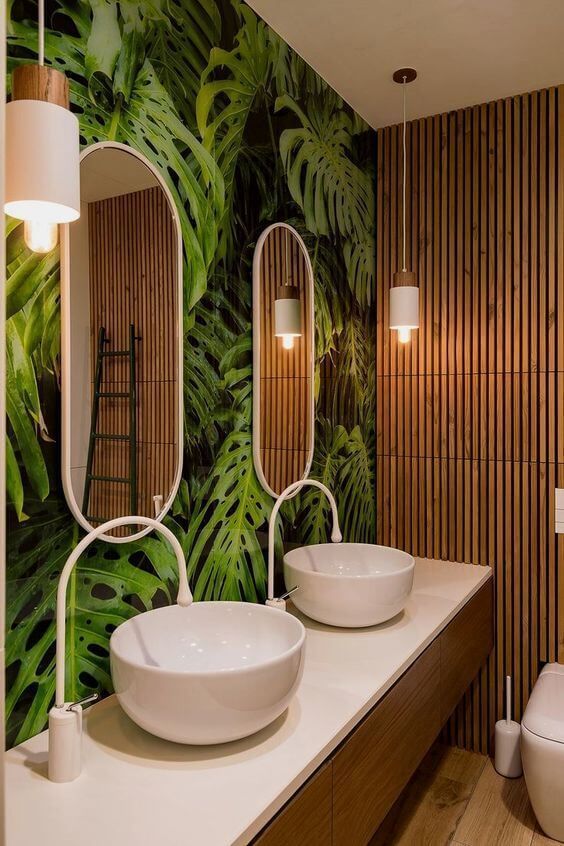 When decorating a tropical bathroom, try not to overdo it. Instead, go for soft and welcoming colors and accents. White complements the bright green of tropical plants and prevents color clashes. If you're going to use bright colors, go for pastels or vibrant hues. When selecting colors for a tropical bathroom, make sure you stick with one or two shades, instead of using several different hues. If you're decorating for a vacation, think about incorporating a couple of bright accents to create a warm ambiance.
Decorating the Bathroom in a Tropical Style
A tropical bathroom is also an excellent way to revitalize an otherwise drab layout. There are several ways to achieve this effect. You can combine a wood vanity with a tropical-themed shower curtain, or cover the walls with palm-tree-covered wallpaper. You can also try to add touches of color with a tropical shower curtain or vanity. If you're decorating a bathroom, you can show off your sense of humor with a tropical shower curtain.
One of the best ways to add a tropical flair to a home is by decorating it with a variety of tropical accents and textures. A tropical bathroom can make your bathroom feel like a spa retreat. With the lush design, you'll feel relaxed and happy. If you're feeling overwhelmed by all the options, you can try using the RoomSketcher app to create your dream space. It is a very quick and easy way to design your dream space.
Another way to create an exotic bathroom is to add a shower area outdoors. The beauty of a tropical bathroom can't be matched by a traditional indoor shower. Outdoor showers are a staple in many high-end tropical bathrooms. Not only do they provide an appealing effect, but they also provide a fresh air setting for your personal grooming routine. You can even find shower areas outdoors in Hawaii. The only downside to having an outdoor shower is that it will be uncomfortable during the cool summer months.
Adding a Beautiful Touch of Style to the Bathroom
If you'd prefer a white bathtub, try a tropical bathroom with a freestanding bathtub. It stands in the center of a beige floor and beige marble flooring. A white basin sink stands on either side of the bathtub, and a large circular artwork adds a touch of style. The bathtub is complemented by a beautiful view of the ocean outside the glass wall. The floor and walls are a neutral beige, and the wooden ceiling adds character and depth to the space.
To get the right feel for your tropical bathroom, choose a tropical shower curtain with a solid color or a pattern. It will enhance the look and feel of the bathroom while ensuring that you are not sacrificing a modern vibe. Don't forget to buy colorful towels in tropical patterns. Choose patterned ones to make your tropical bathroom more interesting. Try using seashells or other natural items as an accent in a glass bowl to display. Similarly, you can get soap in the shape of seashells or flowers to add to the look.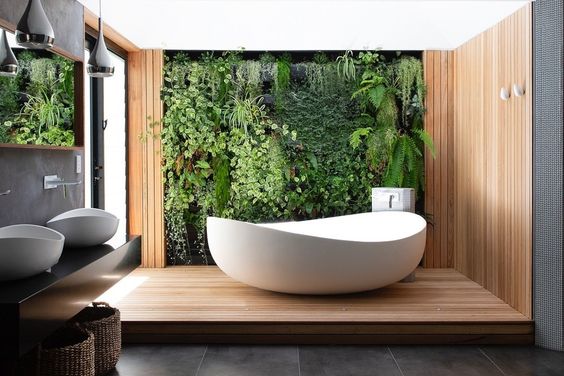 You can also add some natural elements to your bathroom, such as stone. This is a versatile material that can be used for a wide variety of decor. If you have a small bathroom, you can put a small stone sculpture on the vanity. Otherwise, you can place it on a shelf or floor. However, it should be kept in mind that if you choose this material, it should not be very large. In the end, a tropical bathroom will feel like a natural escape. If you wish to send your article to erlanggablog, you can check out this page!